Rebuilds and Restorations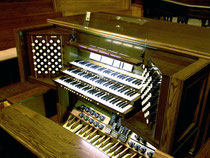 Few organ builders have as many pipe organs still being played decades following their installation as Casavant Frères. Just as with other objects made with natural materials that age with time, pipe organs too need work to keep them in their original working condition. Returning to the original builder when such work is needed is the best way to keep the integrity of a pipe organ and to ensure its reliability into the future.

Over the years, we has developed a unique expertise restoring or rebuilding our own pipe organs, and also notable instruments by other organ builders. Casavant's skilled personnel and large workshops enable us to undertake all type and size of projects involving existing pipe organs.

Assessing a pipe organ that was built decades ago is often a humbling experience. One can appreciate the skills and ability of the artisans who crafted the instrument with pride, as well as study the inner working of cleverly designed action mechanisms and learn about time-proven pipe scaling.
Refurbishment Process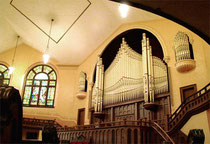 Work on existing organs covers a wide range of interventions, from strict restoration to rebuilding with tonal restructuring.

When approaching a new project, the first step is always for us to make a comprehensive evaluation of the organ on site. This enables us to assess the instrument in regard to its state of preservation and working condition, both on the mechanical and tonal standpoints.

This assessment, along with discussions with the resident musicians, enable us to define the best approach to revive the instrument, by gaining a clear understanding of the needs to be addressed. While the choices made must be respectful of the instrument's inherent qualities, both tonal and technical, we believe that we also have to propose pragmatic solutions to make sure the instrument will continue to serve present and future purposes. In the case of a Casavant organ, the archival material (drawings, plans, correspondence, etc.) we keep for virtually all instruments built in our shop proves to be an invaluable source of information to assist us in making the best choices.

From a mechanical standpoint, one can easily determine to restore the original windchests, wind system, and expression motors, as well as to clean the organ thoroughly. Console work brings more questions. While it is defensible to restore an original console for historical reasons, we respect the fact that most organists prefer to have it rebuilt with solid-state systems, because of the flexibility and the reliability it offers.
Tonal Work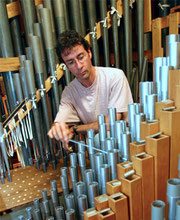 The tonal aspect of a refurbishment project is certainly the most debatable one. Depending on the choices made, it opens the door to either a successful revival or a disastrous aftermath.

Most pipe organs have served their purpose effectively for decades, even if they do not allow the playing of certain works of the organ literature with complete authenticity. After all, the primary purposes of most organs installed in religious institutions are to lead congregational singing and to support choirs.

When tonal additions or changes are desirable, we will make sure that they are made respecting the general aesthetics of the organ, assuming that the instrument has tonal integrity to start with, and that the new resources provided will truly enhance the instrument's capabilities to serve various musical needs.